Learnings regarding the future of mobility — post Covid-19 from Vianova webinars with the global mobility community
The Covid-19 crisis that began to impact Europe in early March 2020 has thrown many countries into an unprecedented in our lifetimes series of crises. One of the most affected industries has been mobility. Public policy across the world has led to in effect the cessation of almost all non-essential mobility. An immediate outcome of the crisis was the need to localise lifestyles and avoid mass transport systems. While micro-mobility solutions, whether personal or shared, have been a growing part of the sustainable mobility plan in cities around Europe for many years, the Covid-19 crisis has provided an unprecedented focus on the ability of these types of services to offer safe, active and sustainable transport that can support the needs of social distancing.
Vianova as part of its thought leadership work in the mobility sector gathered together operators and cities in a series of webinars in April-May 2020 to talk about the challenges of the Covid-19 crisis, their immediate reactions, longer term plans as well as reflections on the challenges now facing the industry.
...
As highlighted by Sylvain Haon from UITP, public transport demand collapsed by over 90% in April, while service levels had been reduced up to 75% in many cities. Antwerp, Belgium's second largest city, faced similar trends with a fall in mobility of 70%, while on the other side of the Atlantic Ocean, Austin (Texas) — the 10th largest city in the USA — suffered a two-thirds decline in public transport ridership during the lockdown. However, in Antwerp, a base level of transport service continued to operate throughout the crisis, and there has been a multi-year strategy of enhancing public and sustainable transport as well as diverting car and heavy goods vehicles away from the city center. Indeed, the "systemic shock" of the Covid-19 has created the space and opportunity for new thinking on micro-mobility in cities around the globe. It also highlighted the need for modes to work together — classic public transport, shared micro-mobility, personal owned cyclists and pedestrians — to solve mobility needs within the limited space in cities.
Car traffic had also declined by up to 80% during the height of the lockdown phase. The greatest risk regarding mobility is the drift to seeing personal driving as the solution to the challenges brought about by the pandemic and the resulting unsustainable environmental consequences that fail to address the ongoing challenge of climate change. According to Koen Kennis, Vice Mayor of Antwerp, the Covid-19 crisis has highlighted that the future may now involve less travel than we had previously thought, but this is not necessarily a bad outcome. However again as mentioned by UITP, cities must continue to challenge the use of the private car with attractive and sustainable alternatives.
...
As a matter of fact, the need for social distancing in mobility was acknowledged as complex to deliver in classic public transport, and micro-mobility appeared to be able to offer a strong alternative. However, in the long run, Koen Kennis believes that micro-mobility users will need to find user experiences that meet the messages from public health authorities, their own personal health expectations as well as the local geography of cities. Some cities such as Antwerp, already started providing substantial cycle lane capacity including parallel routes: this brought much opportunity for users to choose routes and use lanes that would enable them to feel confident in continuing, if not increasing, their use of micro-mobility services. On the other hand, Andri Wienandts, from SBB, added that as an operator of railways across Switzerland, they had been examining the role of micro-mobility (shared cars, e-scooters, and (e)-bicycles) to extend the capabilities of train stations as hubs. One of the key challenges for the company in terms of shared micro-mobility was about defining and managing the distribution of these devices around its larger stations in a way that maintained an acceptable and safe environment for all station users. This effort included partnership with VOI and Bond Mobility to create mobility hubs at key stations such as at Zurich Hbf as well as designated "geofenced" parking zones. SBB's work with micro-mobility operators before the crisis had already positioned SBB to understand the changes in the market and now consider more fundamentally how micro-mobility can be further integrated into the train service offer in the post-Covid world.
...
More specifically, Lukas Bühler, from Bond Mobility, highlighted the opportunity to define and capture a "new normal" for mobility in cities including micro-mobility. And, in particular that during the lockdown, cyclist commuters particularly missed their travel and more so than car drivers and thus, cities have the opportunity to now strongly encourage mobility choices that citizens enjoy! E-bikes, such as provided by Bond, were shown to be well suited for the slightly longer than "last mile" trips and could replace some entire classic public transport journeys: the average Bond trip was 4.5km during the lockdown — a +70% increase over the earlier figure. On the other hand, in Austin, the city had recently seen up to 12 micro-mobility operators in the city with some of the highest per capita fleet sizes in North America. The Covid crisis has reduced the number of operators, but highlighted the role of micro-mobility in delivering the mobility agenda for the city: the growth of micro-mobility in the city has not been felt to be a hindrance to the wider development of classic public transport services.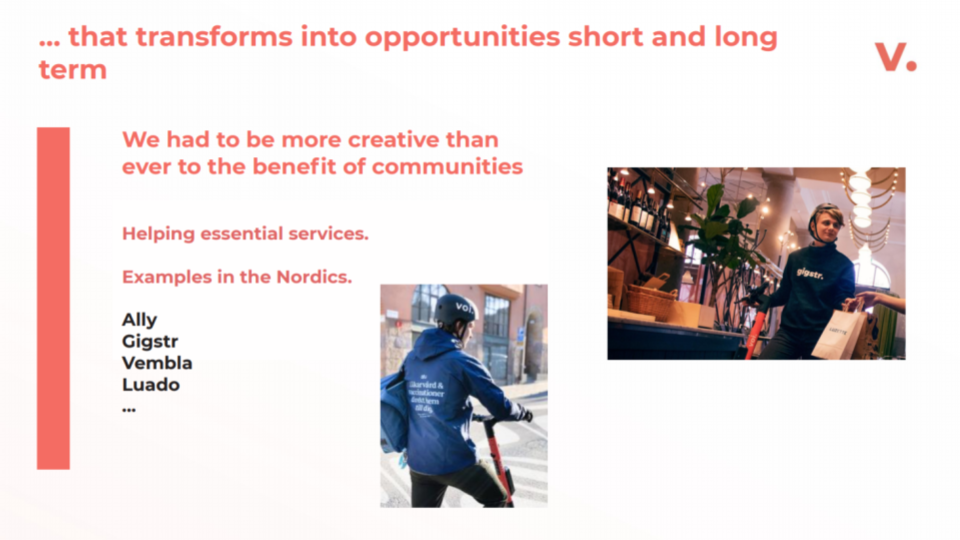 Besides, Kristian Agerbo, from VOI, explained that by early April they had moved from crisis mode to a mode of "adaptation and stability" through implementing changes to their business model. The need to rapidly consider, develop and test new elements of business models during the lockdown and in the post-crisis re-opening has been a consistent and core theme across the mobility industry. In particular, while some VOI e-scooter operations were suspended in certain markets such as in southern Europe, Nordic operations continued. The focus of these continuing operations was on "assisting society" in crisis — "#Voitribution": this was done mainly through focussing on key workers and delivery services, such as for food, while enhancing hygiene measures for the devices and increasing customer information.
...
Finally, it appeared to be key to some micro-mobility operators' strategy, such as VOI, to work in partnership and transparently with local city authorities through the crisis, and beyond. Data sharing is part of this partnership and includes city authorities as well as other public transport operators in order to continue to address longer term issues of air pollution and climate change. According to Sam Sargent, from Capital Metro, a growing urban region must embrace strong and robust sustainable transport opportunities including classic public transport and micro-mobility to remain viable, livable and competitive. This trend will overwhelm the short term impacts of the Covid crisis. Sam Sargent is keen to see all modes of sustainable travel work more strongly together to deliver this agenda — this again also includes through data sharing and the city authorities have a key role to play as "referees in the data eco-system". In particular, he is keen to learn from European experience on planning and delivering multi-modal streets that while attractive can deliver an environment conducive to the use of micro-mobility and public transport.
...
In summary across the series of conversations, the Covid-19 crisis has delivered, and continues to pose, a significant shock to the transport industry in cities across Europe, and North America. The need for robust and sustainable transport will remain and this cannot be through increasing use of personal cars. Classic public transport, (shared and personal) micro-mobility and city authorities need to work together to deliver this agenda with both public and private sector inputs. Proactive support from city authorities for micro-mobility operators may need to be part of these solutions. Vianova sees shared micro-mobility as part of the response to delivering mobility and social distancing in cities. The crisis is adjusting the business models of all mobility operators, and these adjustments can deliver short-term market relevance as well as longer-term support for the overall sustainability agenda in cities around the world.
...
This article has been co-written by Giles Bailey, Head of Policy & Partnerships, and Thibaud Febvre, co-founder & COO of Vianova.
As an emerging thought leader in the area of mobility and urban space management, Vianova is keen to work with cities that are eager to promote new transport modes such as micro-mobility, enforce reasonable and fair rules of deployment on territories, better integrate these new modes into the wider transport system, as well as better manage public space to meet the broader needs for efficient and sustainable mobility. We are working with a range of cities as well as private landowners to deploy this vision.